Íme a barna rétihéja (Circus aeruginosus - western marsh harrier)... a nádasok ragadozója. Általában tavak/tórendszerek felett szokott körözni kismadarakra lesve. Eléggé hasonlíthat az egerészölyvre (Buteo buteo - common buzzard), de vannak olyan bélyegek, mely alapján el lehet különíteni a két fajt. A barna rétihéjának arányait nézve, a szárnyai jóval keskenyebbek, karcsúbbak. A szárnya alsó részén nem látható az egerészölyvre jellemző mintázat.
Here is the western marsh harrier (Circus aeruginosus)... the predator of reeds. It is usually circled over lakes/lakes systems by chasing the small birds. It can be quite similar to a common buzzard (Buteo buteo), but there are characteristics, by which the two species can be distinguished. Looking at the proportions of the western marsh harrier, its wings are much narrower, slimmer. At the bottom of its wing, the pattern characteristic of the common buzzard isn't visible.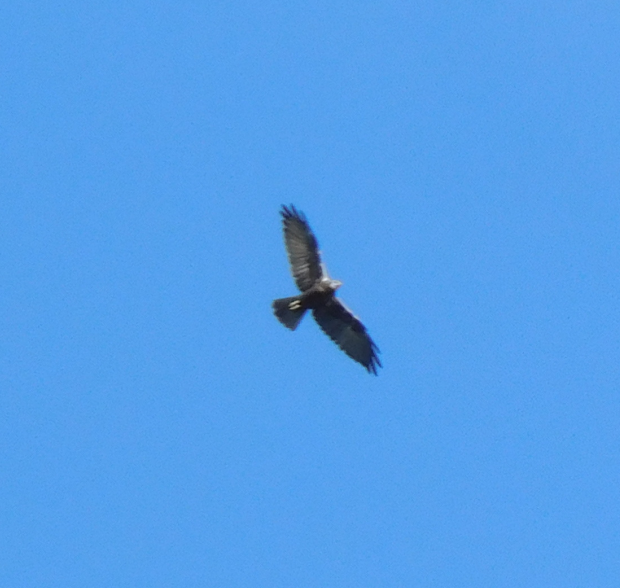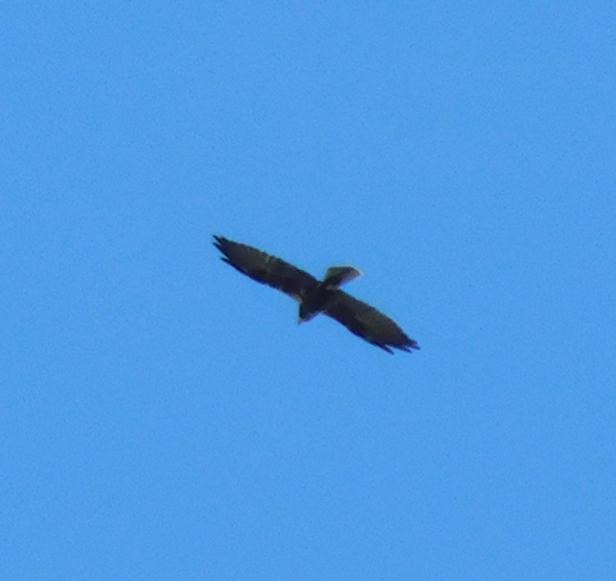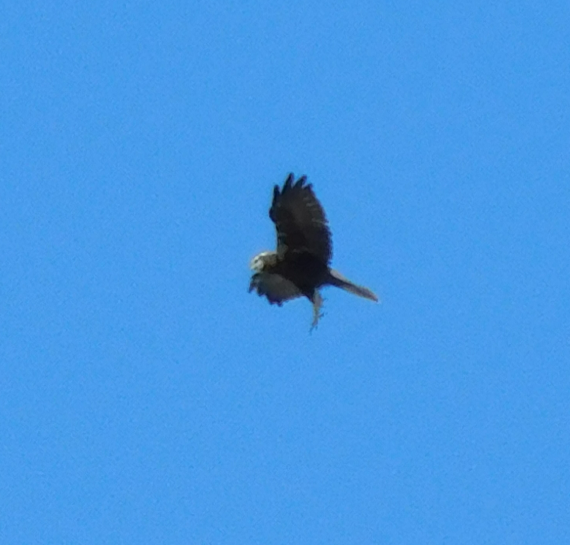 Miközben siklik, szárnyait kissé megemelve tartja, míg az ölyv szinte egyenes és nyújtott szárnyakkal teszi mindezt. Mivel ennek az egyednek nincsen "kesztyűje" (elsőrendű evezők nagy része fekete, a szárny többi része szürke), feltételezhető, hogy tojó egyedről van szó, vagy számításba jöhet a fiatal is. Ebből a távolságból nemigazán lehet megmondani, hogy melyik a kettő közül, fiatal vagy tojó.
While it glides, it keeps its wings raised slightly, while the buzzard does the same with almost straight and outstretched wings. Because this individual doesn't have "gloves" (a part of the wing is black and the rest is gray), it can be assumed that it is a female or the juvenile may be considered. From this distance it isn't really possible to tell which of the two is juvenile or female.