Épp elmentem az egyik bokor mellett, mikor zizegő hangot hallottam. Megláttam a pókhálóban vergődni ezt a gyönyörű kinézetű kései karcsúacsát (Aeshna mixta - migrant hawker). Épp akkor repült bele, mikor én arra jártam, ezért még nem gabalyodott bele nagyon a hálóba, csak az egyik szárnya végére csavarodott rá egy kis mennyiség. Lenyűgöző volt a mérete, mikor megfogtam, folyamatosan zizegett a szárnyaival, az egész tora rezgett, hiszen itt találhatóak a repülőizmok.
I was just walking next to one of the bushes when I heard a buzzing sound. I saw this beautiful migrant hawker (Aeshna mixta) in the spider web. It had just flown in the web when I was walking there, so it wasn't very floundered in it. Only a small amount twisted onto the end of one of its wings. Its size was wonderful, when I grabbed it, it kept floundering its wings. Its whole thorax vibrated because the flight muscles are located here.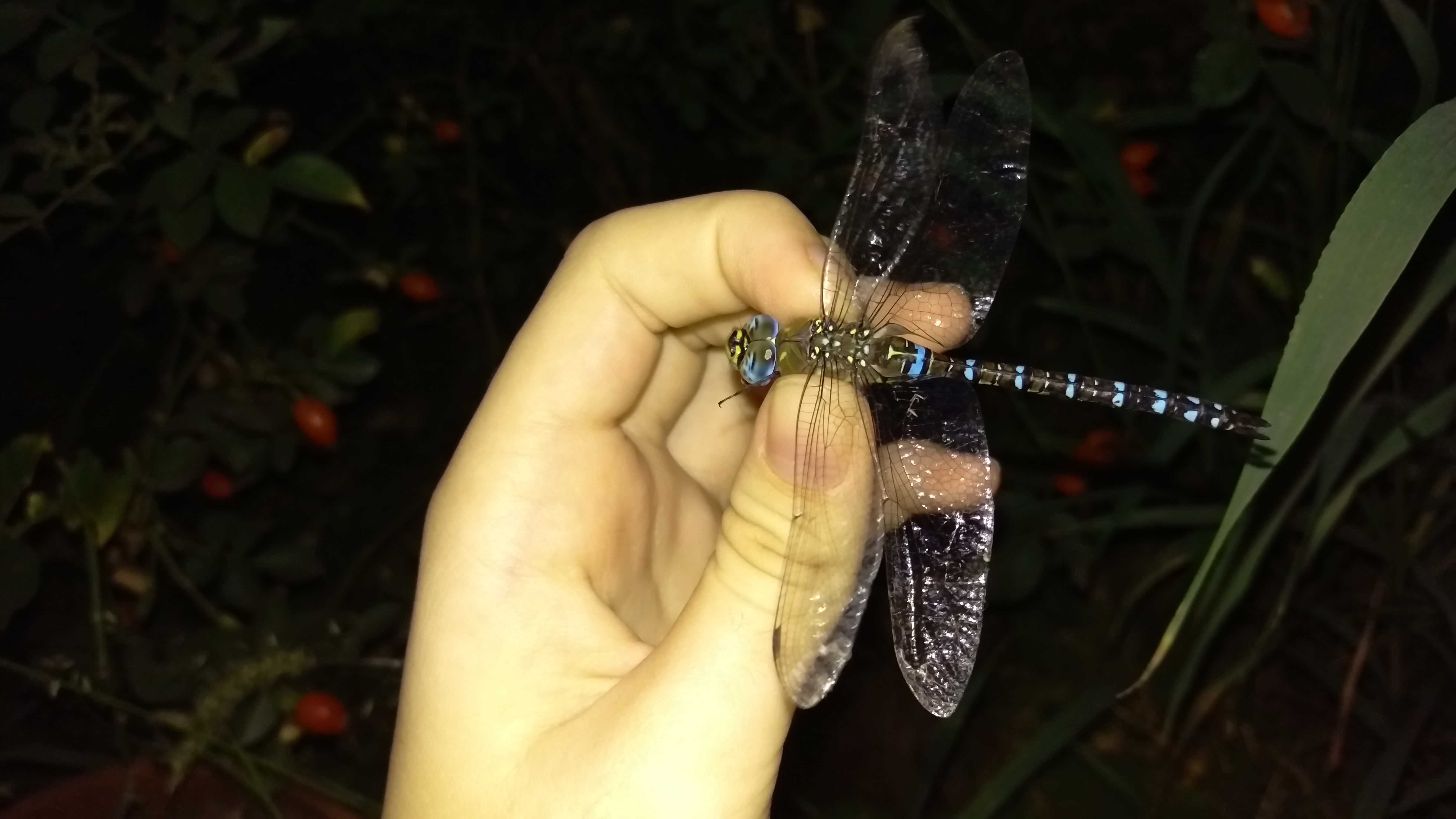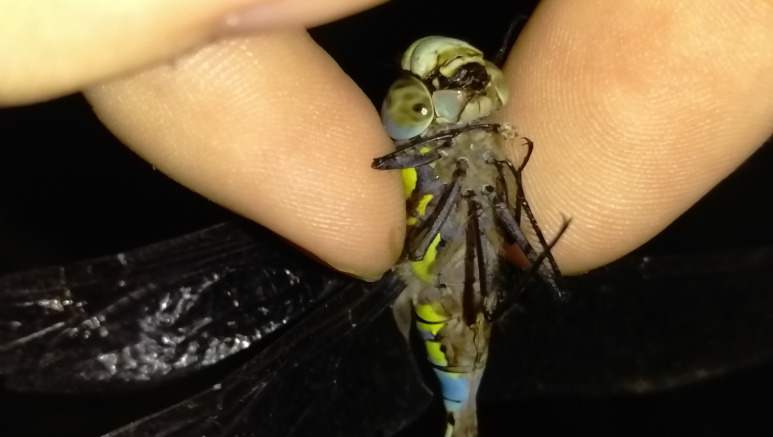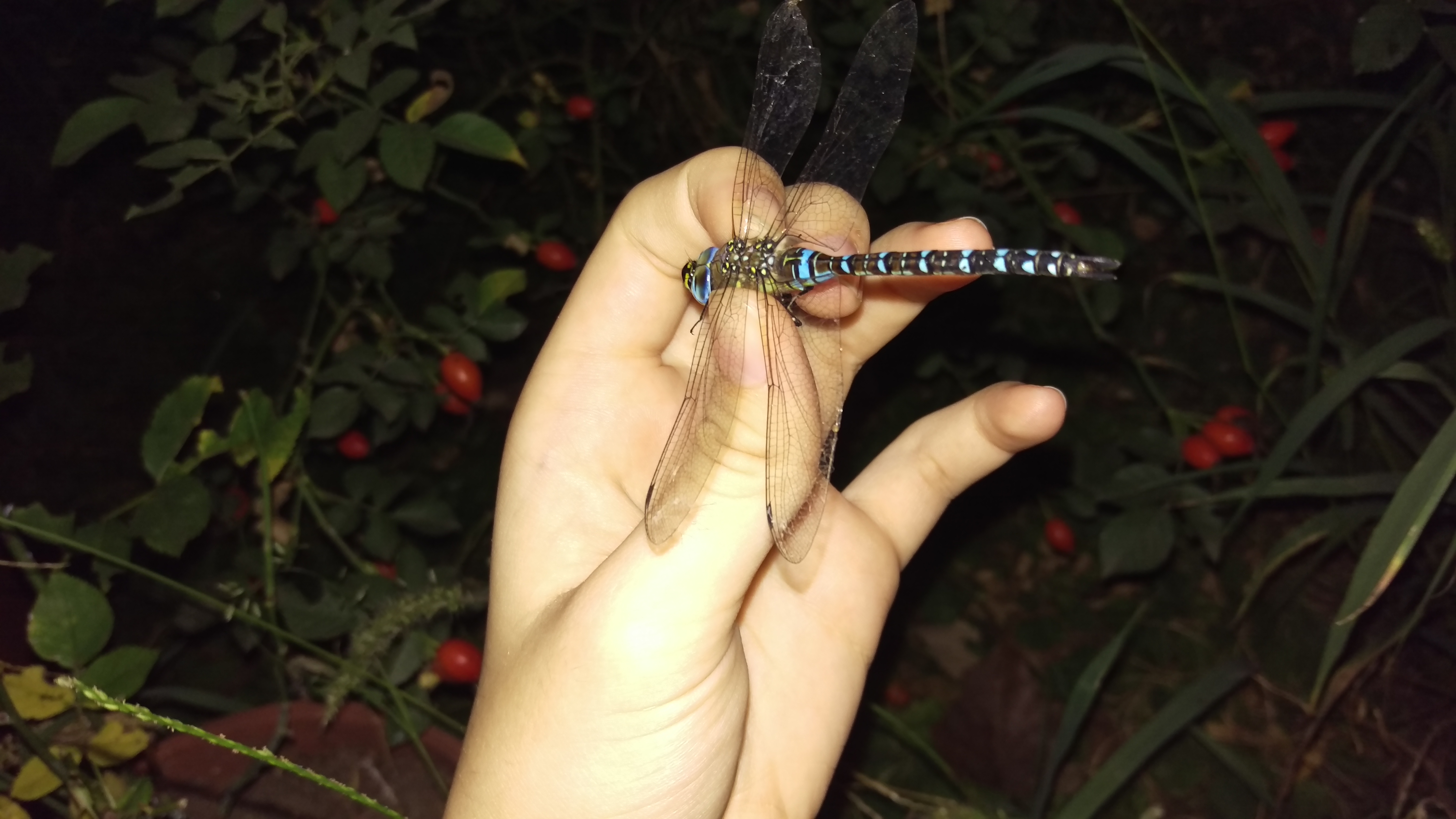 Szerencsére nem fosztottam meg egyetlen pókot sem a vacsorájától, mert az a pókháló, amibe belerepült a szitakötő, már néhány hete lakatlan volt. Mivel a potroh gyűrűi élénk kék színűek, ebből arra lehet következtetni, hogy egy hím egyedet találtam. Gyorsan elengedtem és gond nélkül tova szállt.
Luckily, I didn't deprive any of the spiders of their dinner because the spider web, into which the dragonfly flew had been uninhabited for a few weeks. The rings on the abdomen are bright blue, it can be concluded from this that I found a male individual. I let it go quickly and it flew away without any problem.