Egy érdekes eseménynek voltam szemtanúja. Először a három fiatal fácánt (Phasianus colchicus - common pheasant) vettem észre, amint éppen egymást kergették, majd a felrepülő sáskákat kapdosták.
I was a witness to an interesting event. I first noticed the three juvenile common pheasant (Phasianus colchicus), while they were chasing each other, then they caught the flying grasshoppers.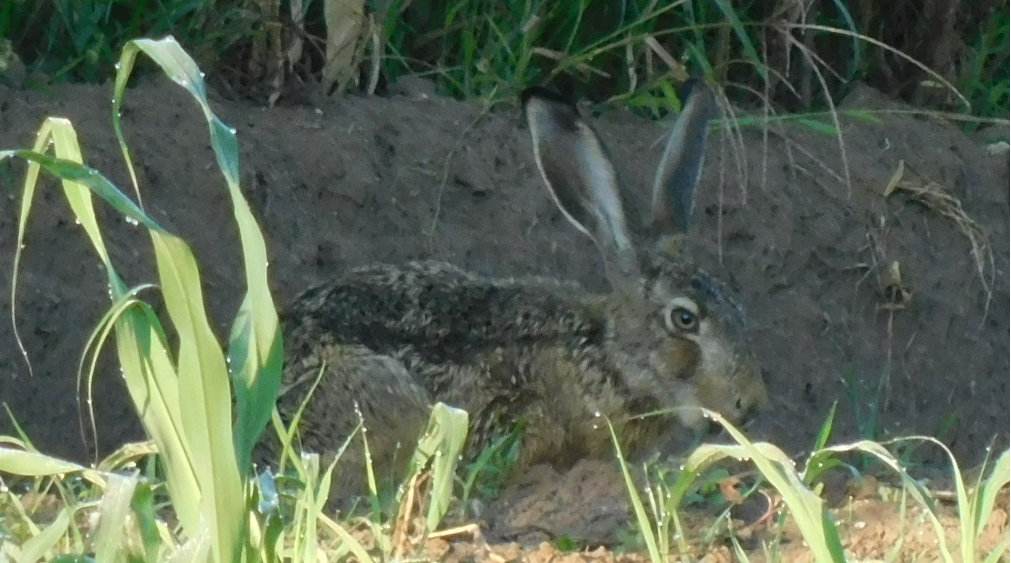 Aztán egyszer csak előtűnt a háttérből egy mezei nyúl (Lepus europaeus - European hare), aki elsősorban csak nézte a fácánokat. Viszont nem sokkal később ő is beállt a kergetőzésbe. Volt, hogy a nyúl ugrott a fácánok közé, de fordítva is megtörtént.
Suddenly a European hare (Lepus europaeus) appeared from the background, which was mostly looking at the pheasants. However, not long after it also joined the chasing. There were when the hare jumped among the pheasants, but the other way around the same thing happened.


Csatlakozott hozzájuk egy örvös galamb (Columba palumbus - common wood pigeon) is, de ő csak messzebbről figyelt és táplálékot gyűjtött inkább. A játék végén, a fácántyúk magához hívta a kicsiket egy egészen halk pittyegéssel. A kukoricásban bújtak el. A nyúl pedig továbbállt.
A common wood pigeon (Columba palumbus) joined them too, but it was watching from afar and gathered food instead. At the end of the game, the hen summoned its chicks with a rather low of voice. They hid in the corn. And the hare moved on.