Először nem hittem a szememnek... De tényleg hollókat (Corvus corax - common raven) kaptam lencsevégre. Egyre többször láttam fekete pontot az égen, látszódott, hogy igencsak magasan voltak azok a madarak. Megfigyeltem, hogy szinte mindig párosan köröznek a tanya felett, de eszméletlen magasan, ezek a képek azért sem lettek túl élesek. Hogy honnan is tudtam, mely madárfajjal volt dolgom? Miért ne lehetne esetleg varjú? Egy fontos határozóbélyege azért jól látszódik. Mégpedig a farok ék alakja árulja el kilétét, ez a bélyeg kimondottan a hollókra jellemző.
At first I didn't believe my eyes… But I really took pictures of common ravens (Corvus corax). I saw black points on the sky more and more time, it seemed that those birds were in quite high. I have noticed that they almost always circle in pairs over the farm, because of their high, these images didn't become good quality. How did I know which bird species I encountered? Why not be a crow? An important feature is well visible. Namely, the wedge shape of the tail reveals its identity, this is especially characteristic of ravens.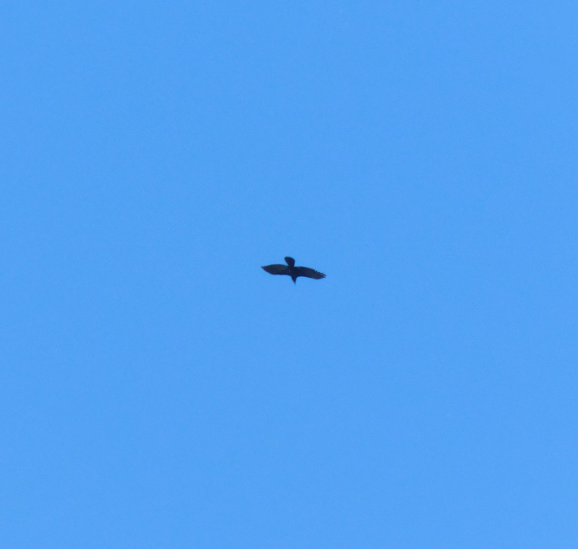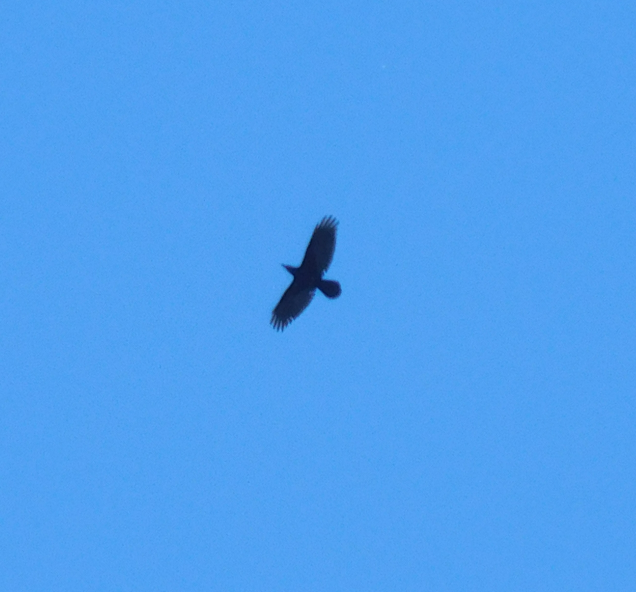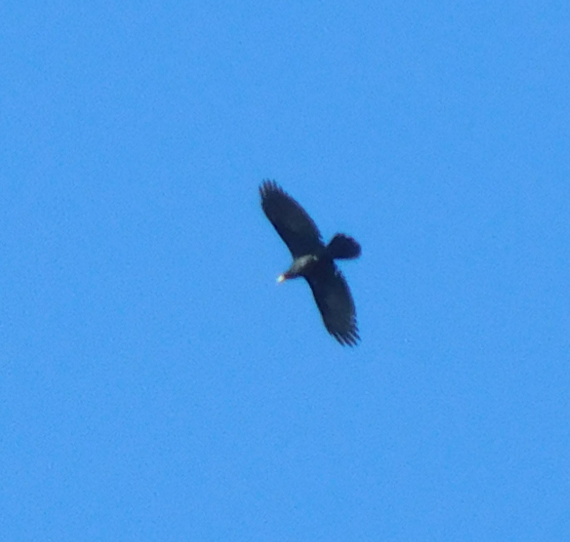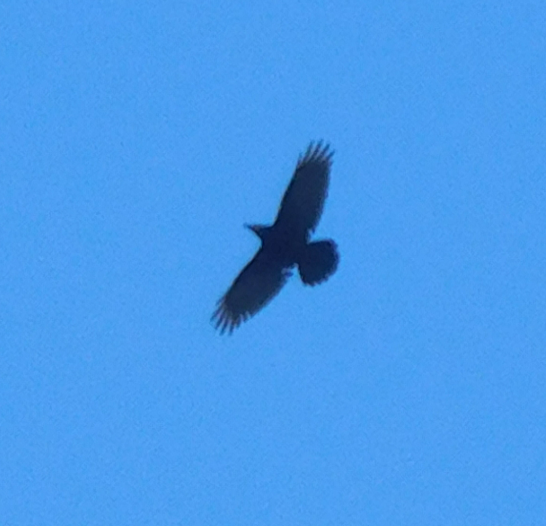 Az is segítséget nyújtott, hogy olyan magasan egy nagy méretű madár látszódhatott csak, egy varjú fel sem tűnne, ha abban a magasságban repült volna. Az egyik képen épp úgy fordult, hogy a fekete csőre visszatükrözte a napfényt, így olyan, mintha fehér színű lenne. Egyébként korábban már láttam hollót a tanya felett, de akkor egyedül jött és nagyon alacsonyan. Izgalmas volt, mert a mérete hatalmas, egerészölyv méretű lehetett. Épp felettem repült el, így láthattam, hogy jónéhány evezőtolla hiányzott, elég viharverten nézett ki. Először a hangjára lettem figyelmes, azt gondoltam, hogy bakcsó (Nycticorax nycticorax - black-crowned night heron) közelít felém, mert az is gyakori errefelé és a holló bakcsóra emlékeztető hangokat adott ki. Hasonlított a "kvak" kiáltáshoz. Ráadásul ugyanolyan időközönként ismételte a holló.
It also helped that a large bird could only be seen so high, a crow wouldn't have appeared if it had flown at that height. On one of the pictures, it just turned to reflect the sunlight on its black beak, making it look like it was white. Anyway, I have seen a raven over the farm earlier, but it came alone and at very low height. It was exciting because its size could be huge, the size of a common buzzard. It just flew over me so I could see that quite a few flight feathers were missing, looking pretty weathered. At first I became aware of its sound, I thought a black-crowned night heron (Nycticorax nycticorax) was approaching me because it was also common around here and the raven made sounds reminiscent of the black-crowned night heron. It was like "quak" shout. Plus, the raven repeated it at the same intervals.