Éppen nézelődök a tavunk körül, amikor észrevettem, hogy fodrozódik a víz. Meg is néztem rögtön, hogy mi okozza. Egy orrszarvúbogár (Oryctes nasicornis) próbált kiúszni a partra. Gyorsan kivettem a vízből és szerencsére hamar magához tért. Aztán az útjára engedtem messzebb a tótól.  
I was just looking around our lake when I noticed that the water was rippling. I tried to get to know the reason. A European rhinoceros beetle (Oryctes nasicornis) wanted to swim to the shore. I took it from the lake at once and luckily it became cousious soon, then I let it go further from the lake.
Le estoy dando un vistazo a nuestro lago cuando de repente me di cuenta de que el agua estaba cabrilleando. Al instante, me acerqué al lago porque quería saber que pasaba. Un escarabajo rinoceronte europeo (Oryctes nasicornis) intentaba escaparse del lago. En seguida lo saqué del agua y afortunadamente el insecto recuperó el sentido bien rápido. Luego le dejé irse un poquito lejos del lago.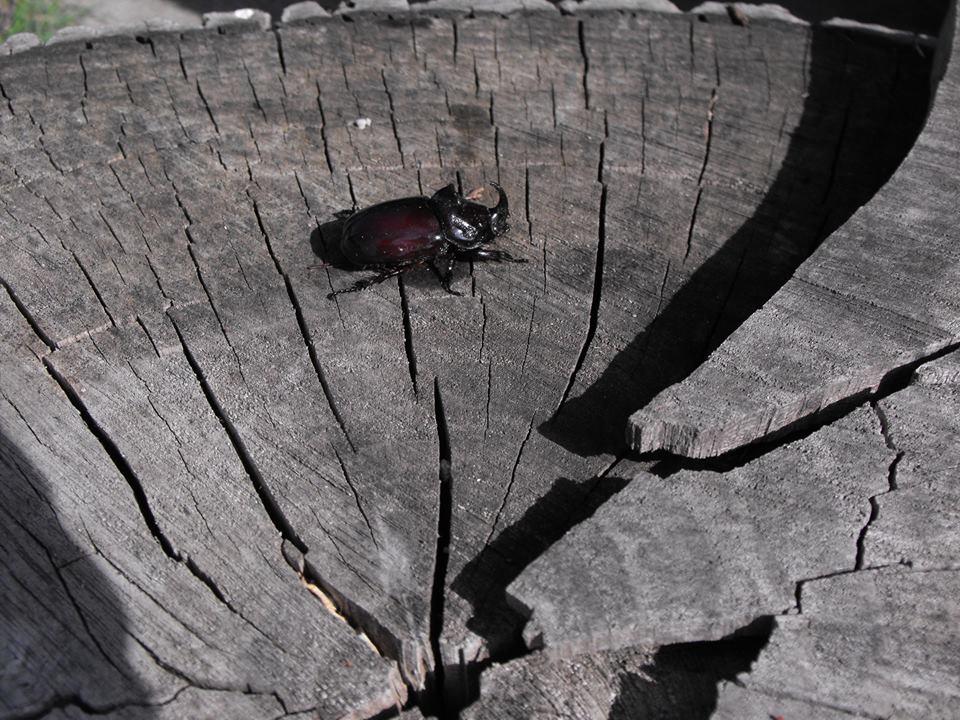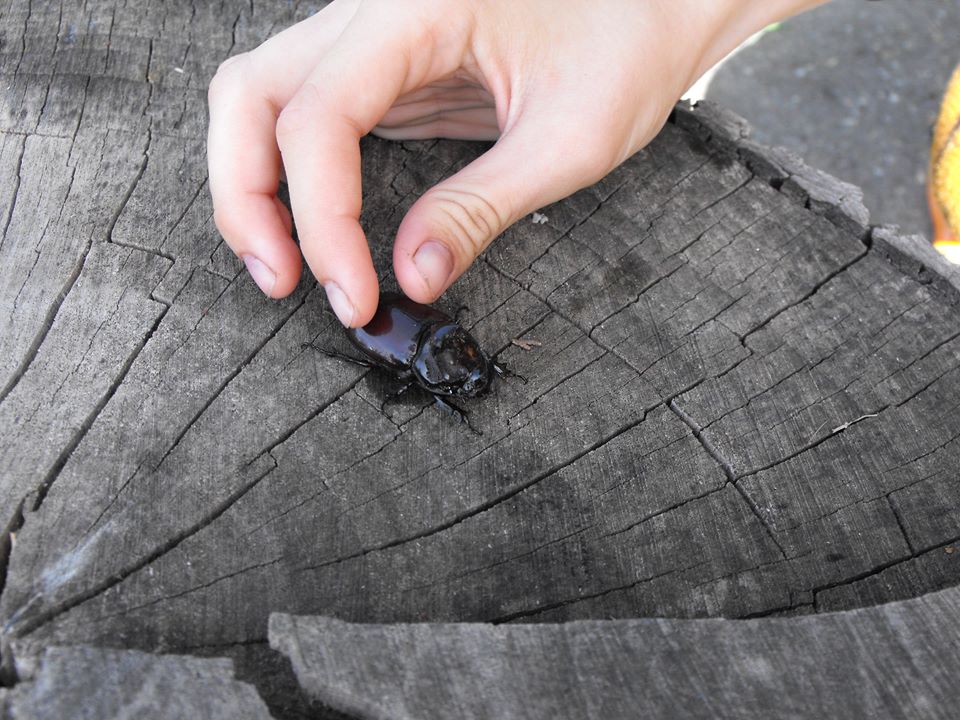 A szarvnak egyébként nincs különösebb szerepe: mérete rendszerint egyenesen arányos viselőjének termetével, ennek a szerepe az lehet, hogy a hímek békésen eldöntsék a közöttük kialakuló hierarchiát. Érdekesség, hogy az orrszarvúbogarak pajorjaiba rakja petéit az óriás tőrösdarázs (Megascolia maculata) és lárvái gazdáikat fogyasztva nőnek fel.
The horn has no function. Their size is in connection with the body. The male animals can decide the hierarchy. It is interesting that the mammoth wasp (Megascolia maculata) lays its eggs in the rhinoceros beetle' grubs and their larvae eat parents and grow up this way.
El cuerno no tiene mucha función, cuyo tamaño se ajusta perfectamente al aspecto del propio insecto. El único papel del cuerno puede que los machos puedan elegir el líder en la colonia jerárquica. Es curioso que la megascolia maculata (Megascolia maculata) deposite los huevos en la larva del abejorro de la que emergerán las larvas del avispón que se alimentarán de la larva del escarabajo.