Eléggé ijesztő látványt nyújthat a fehér tündérrózsa vagy tavirózsa (Nymphaea alba - European white water lily) gyöktörzse télen, olyan mint egy szörny, ami épp kiemelkedik a vízből. Ezeken már nem található egy levél sem, hiszen a téli fagyok miatt elhalnak, majd leesnek a gyöktörzsről. Ahol a levelek elhelyezkedtek, apró lyukak láthatóak, melyek levegőt tartalmaztak a levelek vízen úszásának érdekében.
The rhizomes of the European white water lily (Nymphaea alba) in winter can be quite a scary sight. It is like a monster just emerging from the water. They no longer have a single leaf on them because they die because of the winter frosts and then fall from the rhizomes. Where the leaves are located, tiny holes can be seen that contained air to allow the leaves to swim in the water.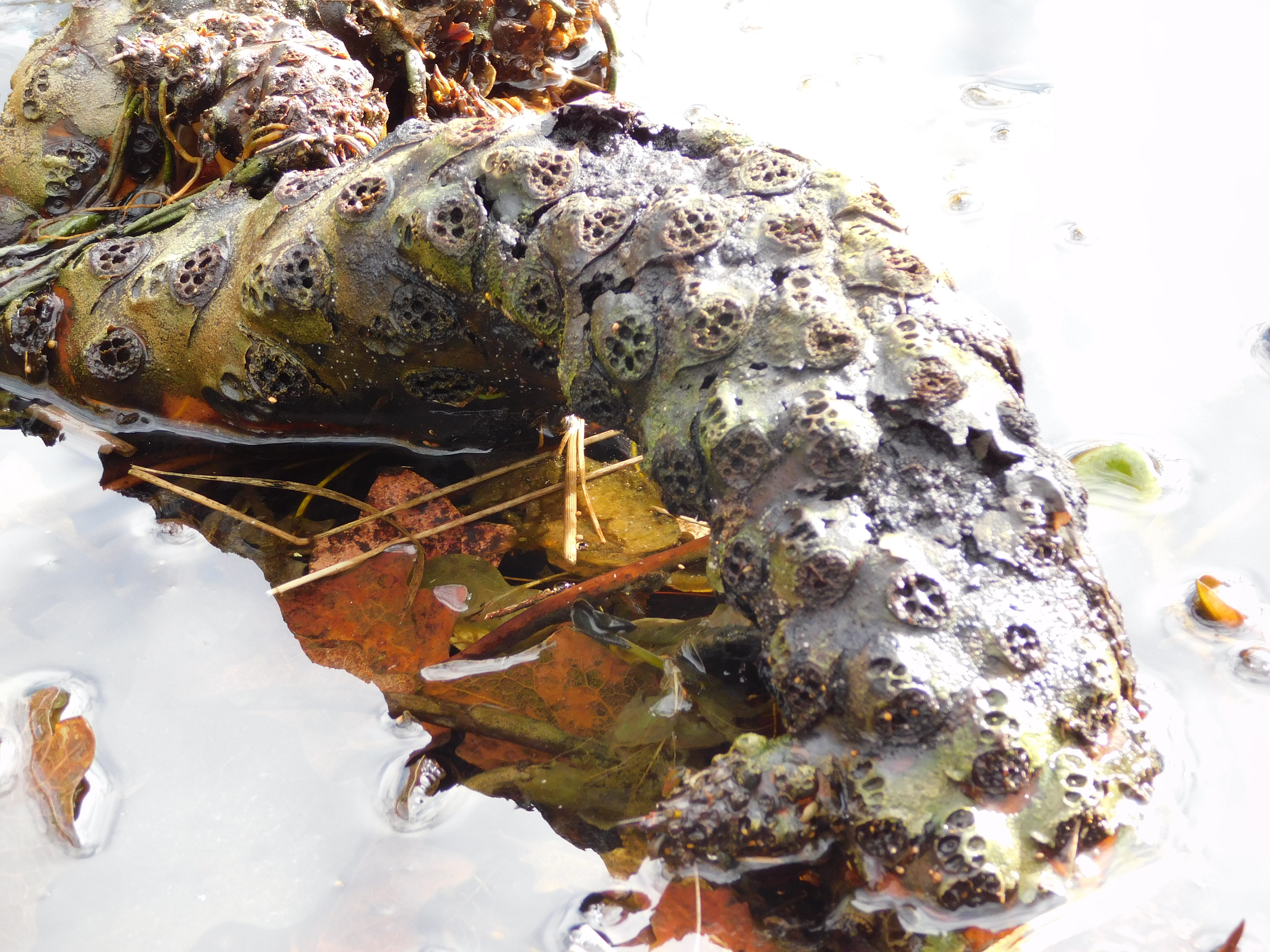 Itt még látható néhány levéldarab. A madarak egyik kedvenc helye, hiszen könnyen tudnak inni, ha rászállnak ezekre. Mikor enyhe az idő, a békák is előszeretettel sütkéreznek rajtuk. Az elhalt növényi részeket általában nem szedem ki a tóból, hiszen rengeteg vízi rovarnak szolgálnak táplálékul és rejtekhelyként. A közönséges víziászka (Asellus aquaticus - waterlouse) szeret ilyen környezetben élni, kitűnő táplálékként szolgál a halaknak, sokszor láttam már olyat, hogy a halak egyszerűen csak beszippantják őket.
You can see some pieces of leaves yet. This is one of the favorite places for birds because they can easily drink if they land on them. When the weather is mild, frogs also prefer to sunbathe on them. I don't usually take dead plant parts out of the pond because they serve as food and hiding places for plenty of aquatic insects. The waterlouse (Asellus aquaticus) likes to live in such an environment, it serves as an excellent food for fish. I have seen many times that fish simply eat these insects.