Mikor a vadász felméri a terepet... Épp felettem körözött ez a karvaly (Accipiter nisus - Eurasian sparrowhawk) tojó, így alulról le tudtam fotózni. A ragadozó madarakra jellemző, hogy a tojó jóval nagyobb méretű, mint a hím. A vöröses szín hiánya a mellkason a karvaly esetében, pedig még árulkodóbb, hogy egy tojó egyeddel találkoztam. Szerencsétlenségére az összes madár elbújt, mely táplálékul szolgálhatna neki.
When the hunter does an assessment... This female Eurasian sparrowhawk (Accipiter nisus) was circling above me so I could take some photos from below. It is characteristic of birds of prey that the female is much larger in size than the male. The lack of the reddish color on its breast in the case of the sparrowhawk and this is even more telling that I met a female one. Unfortunately, all the birds hid, which may serve as food for it.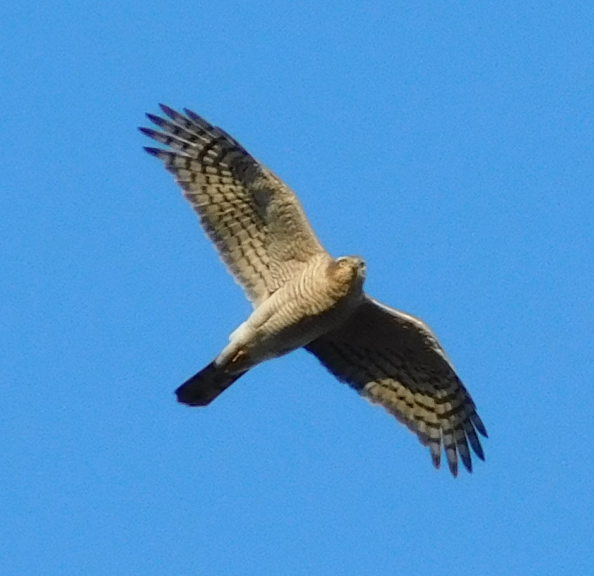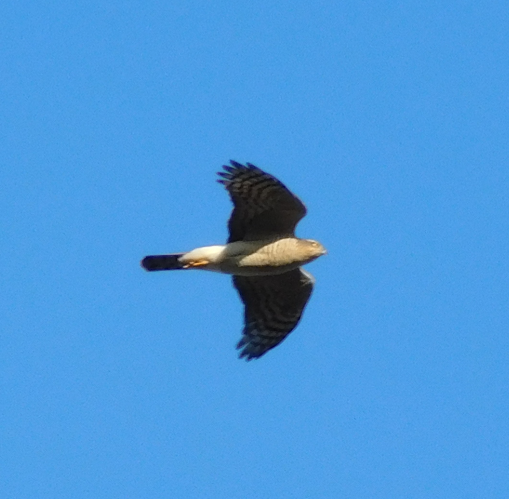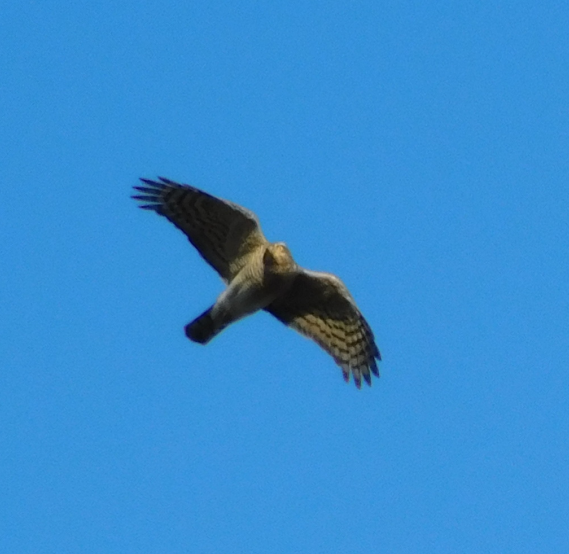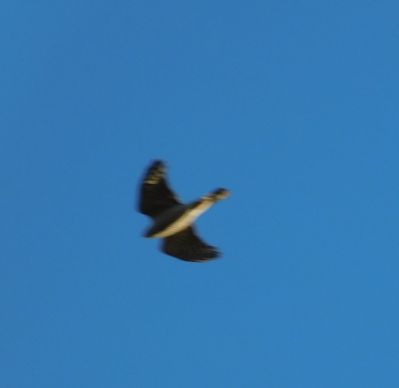 A karvaly a leggyakoribb ragadozó a madáretetők körül, hihetetlen sebességgel üldözi áldozatát a levegőben, még a bokrok ágait is képes kicselezni anélkül hogy sérülést szerezne. Megfigyeltem, hogy amikor a karvaly pihen az ágon és csak nézelődik, gyakran "csóválja" a farkát. Ez furán hangzik, de olyan mintha bemelegítene a következő zsákmány üldözéséhez, és a farka ebben nagy szerepet játszik.
The sparrowhawk is the most common predator around bird feeders, it can chase its prey in the air with incredible speed. It can also trick the branches of the bushes without injury. I noticed, when the sparrowhawk relaxes on the branch and just looks around, it often "shakes" its tail. It can sound strange, but it is like warming up to chase the next prey and its tail plays a very important role in that.