Ezt a rajzomat az iskolai rajzórára készítettem, ez volt az alkotásaimat tároló mappám "bemutatkozó" lapja. Mivel lenyűgöz engem az ókori Egyiptom, készítettem egy sólymot ábrázoló nyakláncot és hieroglif jelekkel leírtam az iskolám nevét.
I made this drawing for the school art lesson, it was the "introductory" page of my folder that stores my creations. I am captivated by ancient Egypt, I made a necklace showing a falcon and wrote down the name of my school with hieroglyphs.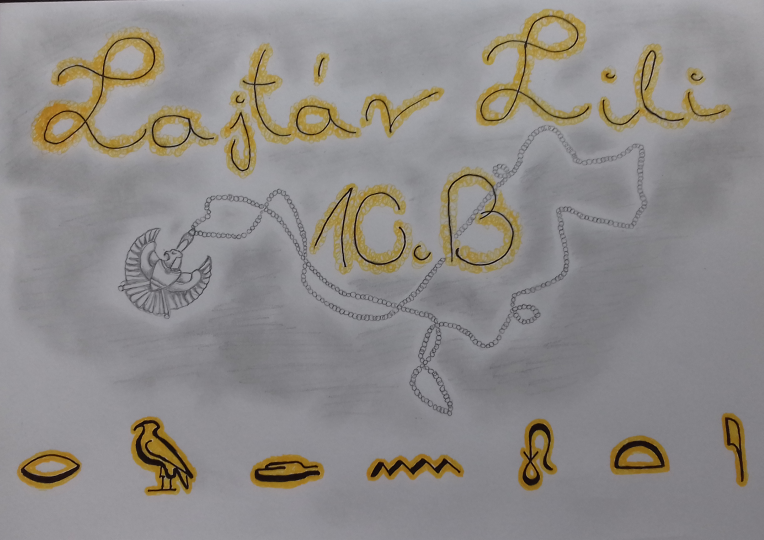 Ez a rajzom is az ókori Egyiptomot idézi, hiszen a szent macskáról van szó. Itt az volt a feladat órán, hogy szavakból alkossunk egy figurát és a szavaknak össze kell függniük az ábrázolt figurával. Én még egy pluszt is tettem bele, beleírtam a macskába, hogy Egyiptom (Egypt) és csak azt vágtam ki...
This drawing of mine also summons the ancient Egypt because it is about a sacred cat. Here the task on lesson was to create a figure from words and the words should be related to the showing figure. I even put a plus into it, wrote the Egypt word into the cat and I cut it out only.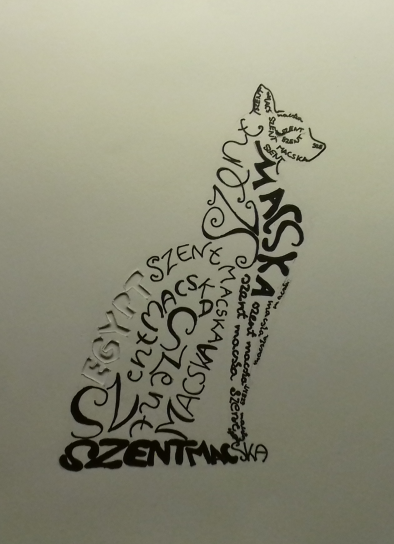 Itt az volt a feladat, hogy a DNS betűit valamilyen környezetbe tegyük, lehet az bármi. Sajnos mindenkinek a DNS lánc jutott az eszébe és sokan azt rajzolták. Én elrugaszkodtam egy kicsit a valóságtól és ketchupot csináltam a DNS-ből, egészen étvágygerjesztő, nem? :)
Here the task was to put the letters of DNA (in Hungarian: DNS) in some kind of environment, it could be anything. Unfortunately, everyone thought of the DNA chain and many drew it. I deviated from reality a bit and made ketchup from DNA, quite appetizing, right? :)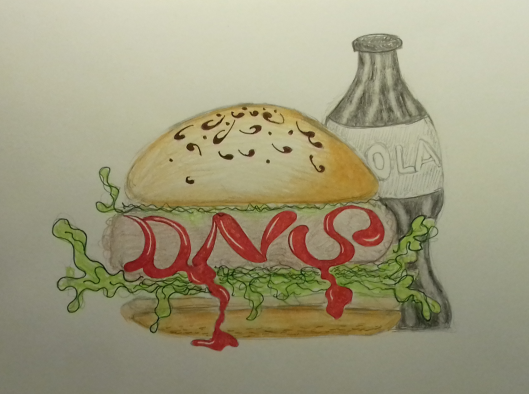 Elkészítettem a saját Ex Libris-emet. Azt kellett lerajzolni, ami a leginkább téged mutat be, ami te vagy. Én az életet rajzoltam le egy tojásban. Azért az életet, mert ez áll hozzám legközelebb és itt a zavartalan, háborítatlan természetet ábrázoltam. A tojás a védelmet jelenti, ami védi ezt az értékes életet, de vigyázni kell rá, mert a tojás héja bármikor megrepedhet, mert ez is ugyanolyan érzékeny és törékeny...
I made my own Ex Libris. I had to draw what best shows me what I am. I drew life in an egg. Life because it is the closest to me and here I depicted the undisturbed nature. The egg is the protection that protects this precious life, but we have to be careful with it because the eggshell can be cracked at any time, it is just as sensitive and fragile.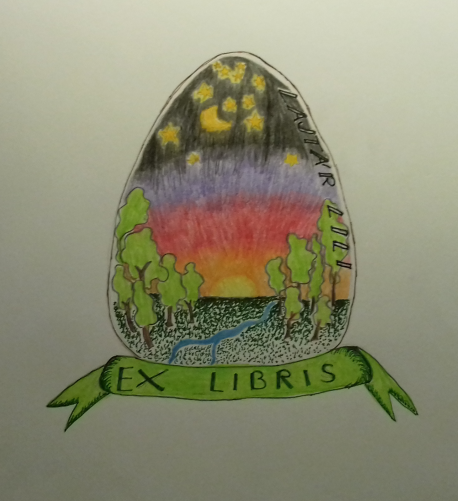 Ez a rajzom nem annyira a kedvencem, de azért felraktam ide. A feladat az volt, hogy a kezünket körberajzoljuk és abból készítsünk valamit, úgy, hogy a kéz a mű elkészítése végén is látható/kivehető legyen a lapon. Én itt sem a szabályokat követtem, elengedtem a fantáziámat, mint, ahogy mindig szoktam, és két kézből készítettem egy színes pillangót.
This drawing of mine isn't so much my favourite, but I put it here. The task was to draw our hands around and make something from it. The hands had to be visible on the sheet at the end of the work. I didn't follow the rules here either, I let go my imagination, as I always do. I made a colored butterfly from two hands.